(Note: please don't open this post if you have an aversion to decorated, whole roast pigs.)
Alright. We had a great wedding, and I can't complain. But if I can, just for a minute, serve as a warning to other planning brides - do
not
trust your vendors when they say they can provide signs for the buffet food. If you haven't seen the sign, just don't trust it.
Half sheets of paper, printed out with big, icky font. When I think of buffet table signs, I think tent cards. These never crossed my mind as a possibility. *Sigh*
Anyway, the noodle bar appetizer was pretty cool, though I suppose we should have explained how to eat cold noodles since a few confused guests tried to eat it like soup. (For the record, you dip the noodles in the sauce, then eat!)
After our short first dance, my cousin prayed over the food, and everyone hit the buffet line. We had a slideshow going on in the background, which my parents had created. It had funny pictures of us throughout our six years together, as well as wedding photos from various family members in attendance.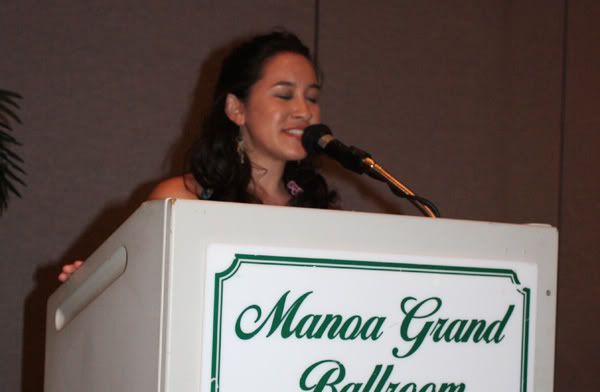 (Photo by family)
Although the signs are regrettable, at least the food looked good!
(Photos by family)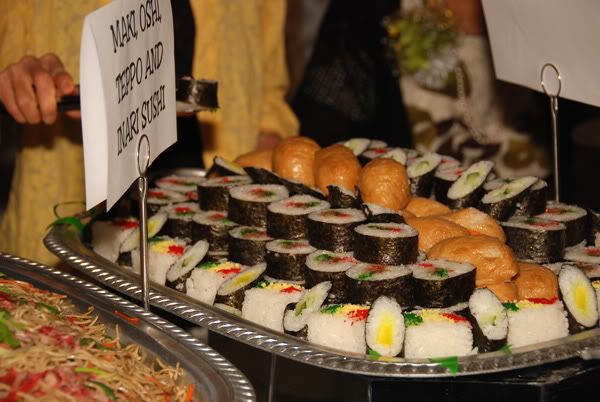 (Photo by family)
And I can't believe how awesome our roast piggu was! He's so festive with his hat, earring and tusks! Oh, and he was delicious too!
And in regards to food, here comes mistake #2. When we chose our buffet items, we were given a list to circle. Sak and I matter-of-factly circled all our favorites. Beef sukiyaki, lemon chicken, lechon, etc.
I'm ashamed, people. What kind of gluttons are we that we failed to see the lack of a balanced meal?
Luckily I like fruit, so we at least had a fruit tray, and Penga-mom at the last minute decided Chinese chicken salad would be a good addition, so there were some greens (though I still don't think it counts as a legit veggie dish, since the emphasis is on the chicken and deep fried noodle topping).
(Photo by family)
Though despite our major fail with the food selection, I haven't heard any complaints. Thankfully, it seems most of our guests are meat and potatoes gluttons like ourselves. Sak received plenty of compliments on the tasty food from his family members! *Phew*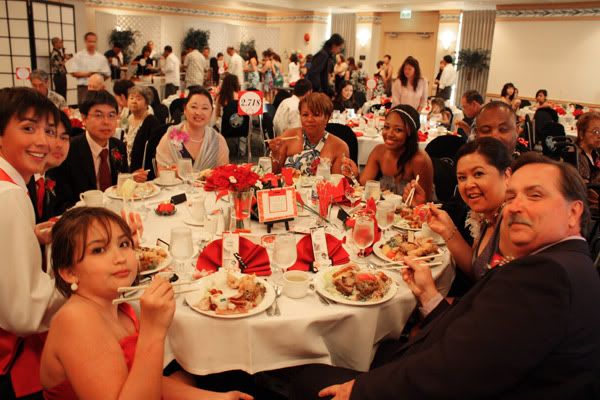 They look like they are enjoying themselves! (Photo by family)
Sadly though, I didn't really get to try most of the food. At this point, I was back in the dressing room - changing into reception "dress" number one!
(Unless otherwise noted, all images by
Terra Photography
)
Our wedding week in review: